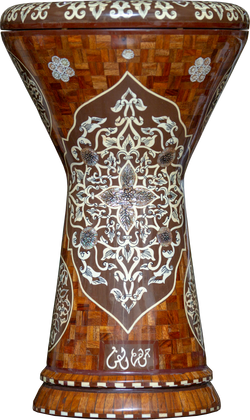 Height : 47cm
Head Diameter : 23cm
As to be expected with all handmade instruments, there may be some minor variations in design, slight imperfections on the body and some small scratches on the Darbuka head. This will not affect the quality of the sound in any way. All items are new and have not been previously used. Darbukas, like most instruments, require tuning and should be played/tuned regularly for the first few weeks until the head sets fully and the true beauty of the sound starts to shine through.
Malik Instruments are proud to offer free international delivery on all Darbuka and Sombaty models.
Orders are typically processed within 1 working day. Once the items are ready, they are shipped from our UK warehouse using the agreed shipping method. Typically, shipping takes 3-5 working days to arrive.
Malik Instruments are not responsible for delays caused by your local customs authority, nor are we responsible for any import taxes imposed by your local customs authority. Please check with your local authority if you require further information on your local import taxes.
If you'd like to return an item you purchased from Malik Instruments for a full refund, you need to do so within 14 days of purchase. You will be responsible for the return postage. All of our instruments and accessories are covered under this policy, and you may return your item for any reason, subject to the exceptions found in our Refund Policy.